A couple of months ago, when I was feeling a bit directionless in terms of this blog, I sat down and had a good long think about what I wanted to do. It seemed to me that I'd become increasingly removed from my original intent when I started, i.e. to write about what it is like to live up on this little North Atlantic rock known as Niceland. While my guiding principle has always been to post whatever I need to rant I'm enthusiastic about at any given time [which obviously accounts for the broad subject matter in this space] I still felt like I needed, not only a focus for myself, but also some sort of middle ground where the increasing number of Icelandophiles who read this blog could find something to their liking.
Enter my new idea. Every week or so I'm going to post a regular item called MY ICELAND, in which I feature something that I feel is quintessentially Nicelandic. It might be an object, a custom, a quality … it may be something that makes me nostalgic, like things I used to pine for when I lived abroad, it might just be something that people who live here – including me – take completely for granted, but which nonetheless is unique to this culture. This will be filed under its own MY ICELAND category, accessible to any existing or future readers. And – for the record – it will be completely subjective, meaning I won't be posting the things that other people consider THEIR ICELAND, although, as always, I encourage your input in the comments section, or via email.
AND SO, WITHOUT FURTHER ADO…
My first piece of Iceland is this: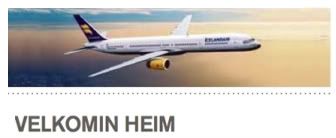 I ask you: is there any other country where the flight crew addesses the passengers over the loudspeakers with: Góðir farþegar, velkomin heim [Dear passengers, welcome home], as soon as the plane has landed? Something about that gives me a warm and fuzzy feeling every time. Perhaps the emotional significance I attach to it is a throwback to all the years when I lived abroad but felt uprooted and displaced. I don't recall ever hearing another Icelander comment on this and would, in fact, be really interested in your input [- á íslensku ef það er auðveldara]. In any case it was always such a great feeling to land in Iceland and hear those words – welcome home – even though at the time Iceland wasn't my home and hadn't been for years and I had no conscious intention of making it home. It was sort of like a warm embrace. Home.
Of course when you look beyond that, you see that the significance of this little custom is inextricably tied to the Icelandic language. It assumes that if you understand Icelandic – a language spoken by so few people – you're automatically home, with your tribe. Which is why so many people always cite the language as the major defining aspect of being Icelandic – the language defines us, as a nation. But that's a subject for another post, perhaps.
MEANWHILE, IT IS OVERCAST AND BLUSTERY
With the odd showers, but relatively mild temps. We're in the midst of a long holiday weekend here [Whitsun – what's it about? – haven't a clue] and I expect a lot of people bailed on camping and the outdoors on account of the weather, opting instead for cleaning out the garage and such. We've opted for a dinner party [my eldest stepdaughter finished her VERY LAST EXAM OF MEDICAL SCHOOL last Thursday [!!!] and is off to Bali in a couple of days to celebrate with her co-students]; temps right now are 10°C [50F] and sunrise was at 4.25 am, sunset scheduled for 10:25 pm.